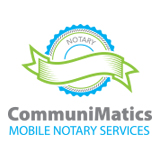 CommuniMatics Mobile Notary Services  provides services from loan document notarization and drilled safe deposit box inventory services to a large number of other General Notary services to meet your business and personal notarial needs. My professional experience allows a wide variety of notarization.
A few document types CommuniMatics Mobile Notary Services  handles (many of which can now be handled "online"):
Non- religious wedding ceremonies including help writing vows if needed

Drilled Safe Deposit Box inventories for financial institutions

I-9 Forms

Health / Medical Documents

Insurance Documents

School Sports Documents

Wills, Deeds, Trusts

Power of Attorney (POA)

Living Wills

Unaccompanied Minor Travel Authorization

Loan Documents

Title Documents

Escrow Documents

Real Estate Documents

Certified Notary Signing Agent

Financial Documents

Single page Document signings

Long Distance Agreements
 CommuniMatics Mobile Notary Services travels to client's homes, places of business, hospitals, nursing homes, rehab centers, jails or any other predetermined convenient meeting location and now ONLINE with a smartphone and computer.
 CommuniMatics Mobile Notaries are NOT attorneys and may NOT give legal advice regarding the documents you may need to sign nor which form to use.