CommuniMatics Mobile & Remote
On-Line Notary Services
Where Making it Official Meets Convenience
Serving Central Florida since 1970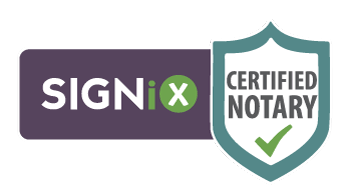 VISION STATEMENT
CommuniMatics Mobile Notary Services will be the
Premier Go-To Notary service provider for the 
East-Orange and South Seminole county 
Areas of Central Florida.
MISSION STATEMENT
Our Mission is to provide prompt, courteous, accurate and
Reasonably-priced Notary services to our clients a
t a time and place that is convenient to them.
Special discounts for Veterans,
Youth and Civic groups
Scout units, church groups, Little League and Youth Groups – call us for a mobile notary when it's time to have paperwork like physical forms, applications, permission slips, etc. notarized for a special event or trip. We'll come to one of your meetings to notarize paperwork for all of your members.
For remote on-line
or mobile notary services,
call (407) 401-8360 or email

nell.colbert@communimatics.com

.
We offer same or next day service.
Call for a free estimate or to make an appointment.
*******
Find us on Facebook
Follow us on Twitter @necolbert

Last updated:  June 5, 2023